Riveting title, huh? Aren't you just hooked on every word already? :)
You may have noticed our um, silence, when it comes to our bathroom remodel. Well, that's because its going really sloooww. Who knew when I spontaneously sawed off part of the laminate counter that three (okay, three and a half) months later we'd still be working on that damn bathroom?
Many of the surprises have been unforeseen circumstances that slowed us down. First, the
drywall behind the shower was damaged
, so out it came. Then, while innocently trying to shut off the water main, the
valve busted
. Finally, it took
three attempts
to fix the leaky sink valves.

(And let's be honest, sometimes we worked on the yard, played dodgeball, or just watched movies instead of working on the bathroom.)
Those were situations beyond our control, but this 'learn from my impatient mistakes mishaps' story is completely due to my lack of patience.
I will share some tips with you that will help you get it right the first time, instead of spending all day moving a light fixture that would have taken another person an hour.
Wow, I haven't even gotten to my point :) To all my awesome, patient readers out there, THANK YOU. Even though I tend to ramble you still stick with me!
Last weekend, I was determined to finish mudding the new drywall and prep the walls for paint. I was just going to deal with the lighting after the fact, but then I found this beauty at the Habitat for Humanity Restore.
Fifteen bucks! What a steal!
Its slightly muted chrome and I love it. Its nice and sturdy and goes well with the simple shower fixtures.
Its much shorter than the old fixture so I wanted to move it so it'd be centered over the vanity.
Sorry about the picture quality. Its hard to photograph a room with no windows or lights.
Matt's response was, "Is it really necessary to move the light 6 inches? Really? 6 inches?!"
My answer was a definite "Yes". And its more like 12 inches :)
Problem was, the electric box needed to be right in between the studs. This is where my impatience doomed me.
I headed off to Home Depot for some electrical wire and a new electrical box, before I really knew what I needed.
First, I tried this.
I forgot to take a pic when it was in the wall. Can you tell by the nails?
Once we hammered it in, it became clear that hanging the light fixture on the end of it would not provide enough support for my metal light fixture. So, back to the store I went for another option. I found two.
The round blue one is considered the "old" way to attached light fixtures, it attaches itself directly to the drywall. Since our new fixture is a little heavy Matt thought it wasn't sturdy enough either.
We tried the second option, which I thought would definitely work.
It has a metal bar that screws into the stud on either side of where the fixture should be. However, in my hurried state at Home Depot, I measured incorrectly, and the box wasn't the right size – it didn't line up with the screw holes on the light fixture.
When I start sighing and grumbling and sweating, Matt kindly offered to make the third (!) trip to the hardware store so we could finish moving the damn light.
Now he really didn't understand why we needed to move the light six 12 inches.
Finally, at the local store (not one of the big boxes), Matt finds our solution for $2.37.
Whew! I was about to smash through all the drywall I was so frustrated. Here are my tips so you can learn from my mishaps and save yourself a ton of time.
Tips for successfully moving or hanging a light fixture
1. Try to find to figure out where the wires are before you rip a big hole in the wall. Take a look in the attic or crawl space to figure out where the wires go. This could save you a bunch of time if you can just move the wire to a space between different studs.
2. I don't mean to point out the obvious, but turn off the power before you mess with the wires. Also, the wire connection to the fixture must be in a box, it can't just come out of the wall (again, sorry to point out the obvious).
3. Measure where you want the light fixture and mark it on the wall in pencil. Don't just mark the spot, draw lines like a tic tac toe board. This way, when you make a big hole in the drywall you won't forget where the electric box should go.
4. Measure the space between your holes on the light fixture. Take that measurement to the hardware store. Better yet, take the light fixture with you! Its totally kosher to take things out of the box and take a look. Line up the electrical box with the fixture to make sure it'll work.
5. Make sure you use a fixture box that will work on light fixtures too, not one just made for ceiling fans. These provide a lot of support for a light fixture between the studs and have a box that's the correct size for light fixtures.
Have you fumbled your way through a seemingly easy project lately? What was your solution?
Thanks for visiting Newcomb Home! If you are new here and enjoy your visit, please subscribe for free
via email
or
RSS
or follow with Google Friend Connect (in the side bar) to stay updated on the latest here at Newcomb Home. Thank you!

x
Linked up at Home Stories A to Z and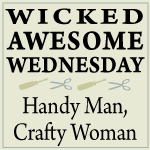 Pin It