Thanks for visiting Newcomb Home! If you are new here and enjoy your visit, please subscribe
via email
or
RSS
to stay updated on the latest. Thank you!
Usually I'm pretty pooped after work. Today I had an unusual amount of energy because I wanted to finish up a half done project from the weekend. A few days ago I showed you a glimpse of a project to finally get some art hung in our family room.
Although we've been in our house nearly a year, our walls are pathetically bare. I feel a lot of pressure to choose *just the right thing* and therefore haven't been able to make any decisions. I've bought and returned napkins to frame. I've hung up and taken down old photos. After reading a post from Young House Love about inexpensive art, I finally had my solution.
I hope they don't mind I borrowed their idea (albeit changed it up a bit). Imitation is the sincerest form of flattery, right?
A few days ago the biggest wall in our family room looked like this.
Not a whole lot going on there. Our family room is pretty big and this particular wall is massive, so I had a lot of space to fill. I liked the idea of lots of smaller frames and a simple design with bright colors. I used the YHL idea of scrapbook paper in different colors, but switched it up a bit with dark frames and a design on the front.
It was pretty easy to make. First, I found the frames (12x12) at Michael's, on sale for $9.99. $7.50 each with a 25% off coupon. Not Bad!
Picking the colors for the background was the hard part. I think I sat in the scrapbook aisle of Michael's for half an hour putting different paper on the ground, arranging and rearranging it. The other customers thought I was crazy.
To make the design on the front I bought a stencil and used some white acrylic paint I already had.
I measured from corner to corner to find the center of the paper and used a screw tip to put a tiny mark on the page.
Then I used a foam brush to put paint on the stencil and just eyeballed the stencil onto the mark I made in the center. I didn't actually measure the stencil size compared to the paper to find the exact center (but I did look up the word eyeballed. Its a real verb). I decided to embrace the imperfections in the interest of time.
The stenciling was pretty easy. After one row I decided that stenciling the whole paper might be too much so I did this plus sign-looking design. But the possibilities are endless!
Hanging 8 frames evenly spaced intimidated me a little bit, but it was pretty easy to do with a tape measure and laser level. I laid out the frames on the ground with the spacing I wanted, back side up. This allowed me to measure the distance from one hanger to the other.
I repeated this exercise on the wall, using a laser level to keep the frames even.
Carl helped. That cat is obsessed with light!
I just hammered in some nails on my pencil marks and that was it!
For some scrapbook paper, paint and cheap little frames, it turned out pretty well!
In the YHL post, they mentioned this art from Crate and Barrel that retails for $369.
I'd say for 70 bucks including the frames, my DIY version will work just fine :)
For fun, the before and after of our family room.
Thanks again to Young House Love for the inspiration to get my booty in gear and make some art on the cheap!
This post is linked up at 5 Days 5 Ways, The Inspired Room, Today's Creative Blog, The Stories of A to Z, Someday Crafts, The DIY Showoff, and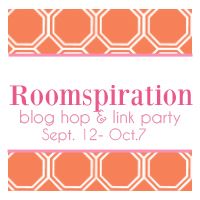 x
Pin It